In this short buyer's guide, we'll talk about the 4 best portable battery power stations on the market currently.
After our buyer's guide, we'll talk about the factors that go into choosing the right battery power station for you, such as battery run time, the number of ports, weight, size, and much more. Let's dive right into it!
Our Best Picks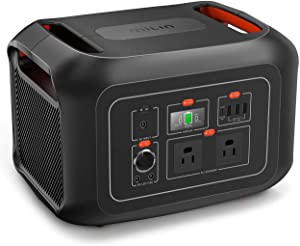 Why did we choose this product?
With MILIN's power station, always be prepared for the worst. Having a small size with big capacity, this portable power station is an all-in-one deal. This 622-Watt-hour power station provides five different output ports (PD, USB, AC, DC, and car), and it can charge nine devices simultaneously, including a laptop, phone, fan, radio, fridge, and much more.
What are other users saying about this product?
Off-grid solar charging – The built-in intelligent MPPT charge controller helps generate at least 30-40% more power than a traditional controller through solar power. As long as there is sunlight, you can have free access to electricity.
Efficient heat dissipation – This portable power station monitors the battery temperature timely and provides self-regulating high temperature protection.
Small size, big power – With a weight of 15 lbs and the approximate size of a guitar amp, the MILIN power station provides a significant energy capacity, both indoors and outdoors.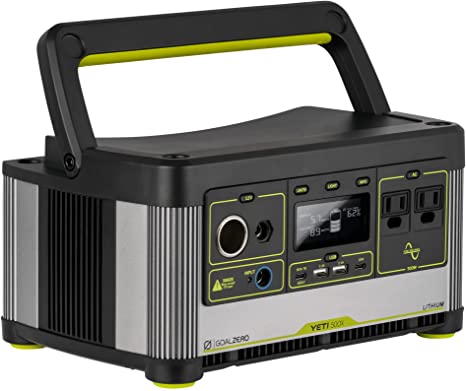 Why did we choose this product?
Equipped with the latest charging technology, Goal Zero's Yeti power station provides a high-speed power delivery, capable of charging USB-C laptops, tablets, mirrorless cameras, and phones in a fraction of the time. Whether you're out camping, partying, or staying at home, you'll never be out of power again!
What are other users saying about this product?
Multiple charging methods – There are various ways to charge this power station, including a wall outlet, car charger, or solar panels. With a wall outlet and a 12V car charger, it takes about 4.5 hours, and with a 100-Watt solar panel it takes about 6 hours for complete charging.
Multiple device charges – At full power, this power station can charge a smartphone over 42 times, it can light Goal Zero lights for over four days, and it can power a 42" LED television for five hours.
Solar charging – With a NOMAD 20 solar panel, you can recharge 20-30% of Yeti's battery each day in full sunlight, but with a NOMAD 100 solar panel, you can get about 80-100% battery life in just a day of full sunlight—you can opt-out for a Boulder 100 for portability and value.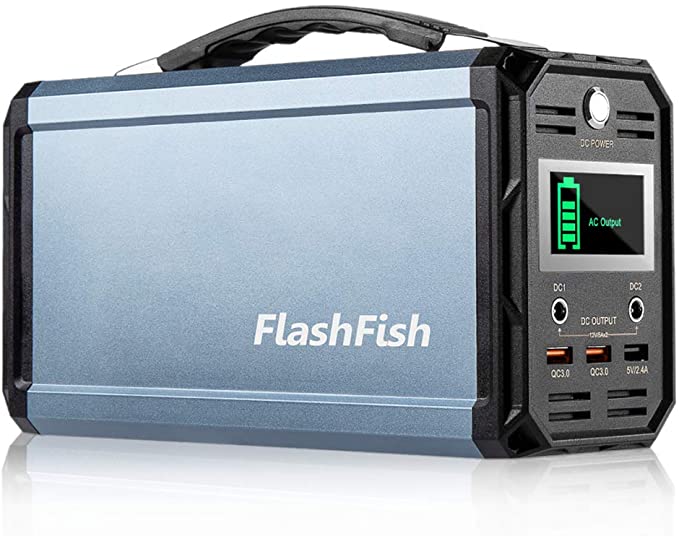 Why did we choose this product?
FlashFish's 222-Watt-hour and 60,000-mAh power station can fulfill your demand for power during a weekend trip, camping, hiking, backpacking, hunting, fishing, or trekking. With three different output ports and three different convenient ways of recharging, you can get the most out of this solar generator.
What are other users saying about this product?
Built to go anywhere – FlashFish's portable power station is small and weighs just under 6 lbs, making it an ideal addition to your camping or fishing trip. With varying output ports, you can charge up to nine devices at the same time.
222-Wh backup power – 11V AC outlets can charge your CPAP machines, tablets, laptops, televisions, fans, Christmas lights, and much more. The other ports can power equipment that draws more power, such as car vacuums, refrigerators, car air fans, and car chargers.
Ways of recharging – With three recharging methods, you'll never be out of power—wall outlet, solar energy, and carports. It will take approximately 5-6 hours to recharge fully with a wall outlet, and with a 12V/24V carport and a 50-60-Watt solar panel, it will usually take between six to seven hours.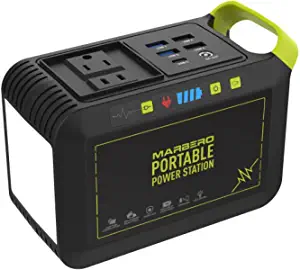 Why did we choose this product? With a capacity of 24,000-mAh and 88.8-Wh, Marbero's power station is recommended not only for outdoor use but also for offices and homes in the event of a natural disaster. Electricity can be used safely even during long-term power outages caused by earthquakes and hurricanes.
What are other users saying about this product?
Easy to store and carry – With a weight of 2.4 lbs, you can conveniently carry and keep this portable power station in a car or backpack for camping, traveling, astronomical photography, and outdoor photography. In addition, it has a handle which makes it easy to carry uphill or upstairs.
Super bright LED light – With the SOS mode, you can press the LED button to switch between constant lighting and flash. Lighting at night and emergency work is perfect for this power station.
Multi-functional safety system – Marbero's safety system protects against power supply damage, overvoltage, under-voltage, short-circuit, overcurrent, overload, overheating with the help of a cooling fan and built-in controllers.
FACTORS TO CONSIDER
There are plenty of things to look for when buying a portable power station for yourself. Before buying, you must look at the size, price, power capacity, functionality, and many more variables. In this section, we'll tell you a bit about each factor and what should be your priority factor when looking for a portable power station for yourself.
Battery Run Time
One of the most significant factors when buying a portable station is to see how long the power station's battery lasts and how big it is. The smaller and cheaper power stations will usually have a battery size of 100 Watt-hours. These power stations are typically reserved for emergencies or for smaller tasks like charging phones or lights.
More extensive and more expensive power stations will usually run around 600 Watt-hours of energy. These power stations are more for recreational tasks like charging a small refrigerator or a laptop during a trip. It all boils down to what kind of devices you want to power with the power station at the end of the day.
Just as a reference, it takes about 5-10 Watts of power to charge a phone, and since most phones charge fully in about two hours, a 600-Wh power station will supply around 30-60 recharges to a phone. This may be unconventional, so a smaller, 100-Wh power station can usually provide about 5-10 recharges from a full charge, making a smaller power station more conventional for smaller tasks.
Power Output
There are several ways to output power, so you must look at what you'll be using it for primarily with a power station. If you want to use a power station for nearly everything, there are numerous power stations available with all kinds of output ports—you'll want to look for one of those.
AC/DC ports are conventional wall outlets that you'll see around your house. Most power stations have a few of these—they're meant for plugging in devices like a television, a small refrigerator, or a gaming console. For devices like gaming controllers, camera batteries, and small fans, you'll want to look for a USB-A port. For charging your phone and tablets, a USB-C port will be the best fit for you—although all types of output ports should be able to charge your phone with the right kind of charger.
Number of Ports
The number of output ports that a power station has isn't that big of a priority for most people since most power stations can charge more than three devices at once. More significant, more expensive power stations can charge up to nine devices simultaneously. Still, many people find this unconventional since the power is drawn will be much higher with more devices connected, so they take it slow and a few at a time.
Weight and Size
The smaller power stations meant for emergencies are kept small enough to put in a backpack or the trunk of a car. These portable power stations have the weight and the size of a small portable speaker—this is to make it easy for users to connect their phone in their pockets to the mobile power station in their backpack for power at your convenience without dragging you down.
Bigger power stations weigh more and are bigger than average power stations. Since the size ranges, some power stations can be as big and weigh as much as a guitar amp—this is why most people will take these portable power stations with them on a car or RV trip and not with them when they go walking or hiking.
Portability
Depending on the activities that you'll be performing with the portable power stations, you may want more portability than just carrying it in a backpack. Most portable power stations come with a convenient handle to be appropriately handled during emergencies or while hiking.
Most portable power stations are equipped with LED lights during the nighttime or emergencies—as LED lights use the most minimal amount of power, the power stations just use the reserve power to control the LED lights.
Control Display
Some portable power stations come with a user-friendly control display. While these may cost slightly more than power stations without a control display, in our opinion, it is worth the money.
With a control display, you'll be able to see how much power and battery life there is left in the power station for better planning in the future. In addition, some portable power stations with a control display have advanced features. These can range from showing how much power is being drawn by various devices, how long it will take for the power station to run out of juice, and many more user-friendly options.
Warranty
With warranty being a prominent factor in purchasing a power station, most companies that make these stations will come with an extended warranty if something breaks down or goes wrong with the power station.
It is never wrong to get an extended warranty because current battery technologies cause battery life to diminish over time slowly. Even with charge controllers, batteries aren't made to be used for any longer than 25 years, so having a warranty would be helpful in situations like these. In general, if you will be using the power stations often, make sure you get a good warranty.
Practical Reasons to Use a Portable Power Station
There are many reasons to use a power station. For some, it's for emergency uses, and for others, it's to have portable electricity in a box on a road trip out in the middle of nowhere. Depending on the practical reason behind using a mobile power station and the budget, it's crucial to have the right kind of power station for your use.
Wrapping up
We hope that this short buyer's guide helped you pick out your next portable battery power station. It shouldn't be hard to navigate through a list of portable power stations, and with our help, you can narrow down the best portable power stations that are specifically tailored for your needs.