In this complete guide, we explain every aspect of RV solar panels after outlining the 8 best solar panels for RV on the market today.
Although there are plenty of mobile solar solutions available (see our article on the best portable solar panels), oftentimes the best ones are durable, rigid, and highly efficient.
8 Best Solar Panels For RV
After countless RV solar panel reviews, we've defined the absolute best products for RVs, campers, vans, and vehicles of all shapes and sizes.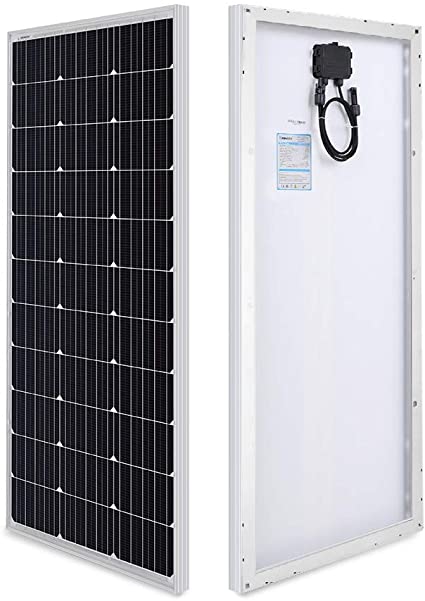 Why did we choose this one? To start, we've chosen one of the most one-size-fits all RV solar panels from one of today's best RV solar panels manufacturers. The Renogy 100 Watt 12 Volt Compact Design Monocrystalline Solar Panel is a perfect choice for most RV solar panel installations.
Whereas you may think that the absolute best RV solar panels will cost you an arm and a leg, Renogy actually offers their 100 Watt compact design models at a very affordable price.
Whether you just need one panel to run your small appliances, or would like to stack multiple panels on the roof of your RV, this product is built to deliver the ultimate customer experience.
What are users saying about this product?
Compact Design – As you may have noticed in the product description, Renogy packs 100 Watts of solar power into a conveniently compact design. In total, each panel measures 42.2 by 19.6 by 1.38 inches.
The compact design takes up less space on your roof which makes it possible to install on vehicles with limited surface area. More so, it also becomes easier to add more solar panels to larger RVs.
Extreme Efficiency – With its monocrystalline make-up, these Renogy solar panels boast a 5 year 95% efficiency rating, a 10 year 90% efficiency rating, and a 25 year 80% efficiency rating.
With this guarantee, each Renogy 100 Watt Monocrystalline Solar Panel will continue to produce large loads of electricity decades after being installed. This allows RV owners to save time and money on replacing comparatively cheaper panels.
Easy to Install and Maintain – Renogy has you covered by pre drilling holes into the back of each 100 Watt solar panel. This makes it incredibly easy to install with a number of different applications including adjustable mounting systems.
Furthermore, this solar panel is built to withstand harsh weather conditions such as snow and wind, so little to maintenance is required throughout the system's lifespan.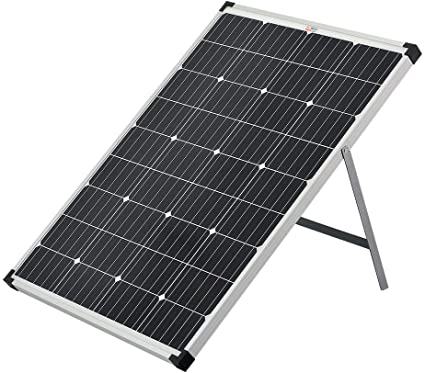 Why did we choose this one? Next on our list, we'd like to feature a similar solar panel to the top product, from another one of today's best RV solar panel manufacturers.
Rich Solar 100 Watt Monocrystalline Solar Panel with Kickstand is perfect for RV owners who would like a high efficiency panel with a built in adjustable angle of direction.
Whether or not you choose to permanently mount this solar panel on the roof of your RV, it is guaranteed to harness and deliver large amounts of solar electricity throughout its extensive lifespan.
What are users saying about this product?
High-Quality Panel Technology – To start, Rich Solar uses monocrystalline solar cells in these panels, which is the most efficient technology on the market today.
In addition to 100W of solar capacity, Rich Solar utilizes technology that allows for your system batteries to charge effectively at a variety of voltages. With that in mind, these panels can be used to run just about anything in your RV.
Extra Added Components– More than anything, however, this product is a great purchase because of all of the added components that come with the package. Not only do each of these monocrystalline solar panels have a built-in kickstand, but they are also equipped with all of the necessary wirings for easy solar Installations.
Furthermore, if you are running your RV solar energy through a separate portable power generator, Rich solar makes it incredibly easy to quickly charge your batteries.
Industry Best Warranties – Lastly, each solar panel sold by Rich Solar (i.e the 60W, 60W premium, 100W, and 100W premium) is backed by a 25 year limited warranty. Across the solar universe, 25 year warranties mark the sign of a reputable manufacturer as one of the longest coverage periods available today.
With a track record of reliable components and great customer service, the industry's best warranties add a high level of peace of mind to any RV solar panel installation.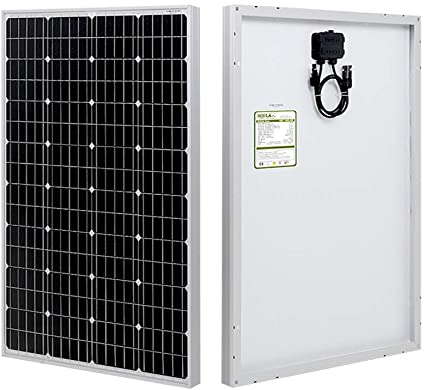 Why did we choose this one? Next on our list, we'd like to showcase another great solar panel that is compact enough to fit nearly every RV roof space.
The HQST 100 Watt 12 Volt Monocrystalline Solar Panel not only saves space on your roof, but can also deliver large amounts of solar power to your system's battery.
We chose this model in particular because it is built to withstand life on the road from the harshest weather conditions to every vibration sent from potholes or rocky roads.
For campers and RVs, HQST is a well known brand that creates high quality products primarily for mobile solar applications.
What are users saying about this product?
Small Footprint – Of course, when we say a small footprint, we are not referring to your lowered carbon emissions from choosing solar energy. Instead, each of HQST's 100 Watt Solar Panels only occupies a small roof.
To put it in numbers, each high efficiency solar panel measures in at 35.6 by 25.9 by 1.2 inches. So not only does the small footprint save your space on your roof, but a 1.2 inch panel depth makes your system much less noticeable from the street below.
Durability – HQST stands for High Quality Solar Technology, and their panels are definitely built to hold this claim. These monocrystalline solar panels are completely water and weatherproof, designed for decades of outdoor use.
In fact, the corrosion resistant aluminum frame and advanced encapsulation materials used to make these solar panels makes them some of the strongest on the market.
Wide Range of Usage – For adventures in all seasons and climates, HQST's solar panels are built to continue to produce solar energy as efficiently as possible.
Rated for use in temperatures between -40℃ to over 90℃, there are no livable climates in which these products will not be able to convert sunlight into usable electricity.
For full time RV occupants, versatility is everything as the wide range of use in these panels opens the doors to any geographical location.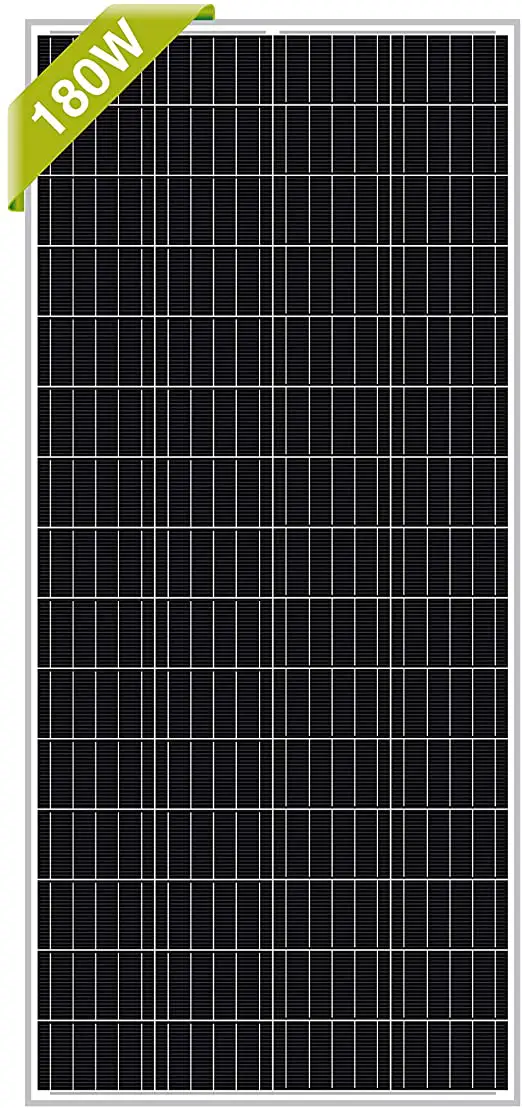 Why did we choose this one?
It's time to increase the wattage! We've chosen this next product for RV owners that wish to incorporate their entire rooftop solar energy system into one or two large solar panels.
The Newpowa 180W MonoCrystalline 12V RV Solar Panel is a large, high-powered product designed to generate electricity in areas with limited sunlight hours.Combined with the company's industry leading warranties, NewPowas 180W solar panels are a great choice for campers, school buses, and large RVs where limited space is not an issue.
In fact, with enough of these solar panels, you can easily generate enough electricity to sustain a small off-grid home instead of your recreational vehicle.
What are users saying about this product?
Tons of Power Potential – With a starting output rating of 180W, Newpowa's solar panels are a step ahead of most 100W solar panels at nearly double the capacity.
With that said, Newpowa's panels are also quite large at 58.35 by 26.57 by 1.38 inches.
If you have the space, however, a few of these panels create the potential for loads of solar energy in areas with limited sunlight hours per day.
Pre Installed Wiring – Any attention to detail and added features truly showcase the quality of a solar panel manufacturer. With these 180W panels, Newpowa includes a pre-installed junction box as well as a pre-attached MC4 cable on the underside of each panel.
With these parts straight from the manufacturer, less guess is involved with whether or not you are using the correct components in your RV solar panel system. So not only do extra included parts bundle together to save you money, but they are also specifically designed to work as one cohesive unit.
Solar Cell Module Efficiency – Backed by polycrystalline solar panels, these large capacity units are also highly efficient. Newpowa rates their 180W solar panels with a 20% efficiency rate, which is among the highest available for the best solar panels for RVs.
With high power at maximum efficiency, RV owners do not need to spend as much time in the sun to charge their batteries as they would with cheaper or smaller components.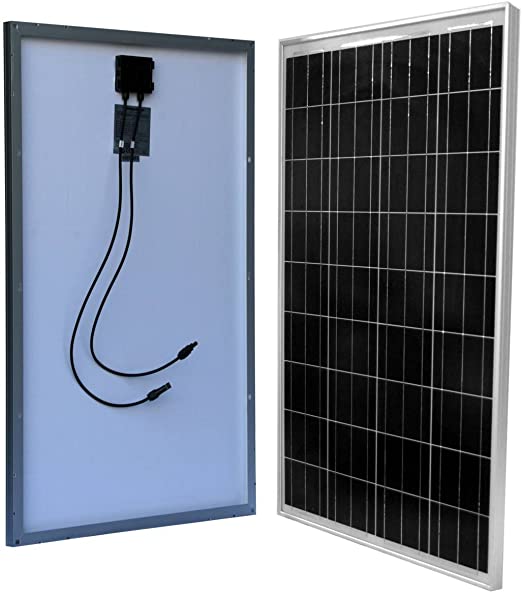 Why did we choose this one?Despite the fact that the company is named for a different kind of renewable energy, the WindyNation 2pcs 100 Watt Polycrystalline Solar Panels is a great way to produce electricity with sunlight.
While many RV owners choose to purchase a few 100W polycrystalline solar panels, to accommodate their electricity demand, WindyNation offers a 2 pack of solar panels at a discounted rate.
With 200W of solar power, this pair of grade A solar panels can be used to power most RV appliances such as fridges, freezers, televisions, navigation systems and more.
What are users saying about this product?
Reasonable Size – Although they are not quite as compact as some of the smaller solar panels for RVs, WindyNation's 100 Watt Polycrystalline Solar Panels will likely fit nicely on most RVs, vans, and mobile homes.
To be specific, each of these panels measure in at 40 by 2.4 by 26.4 inches. With this in mind, most RV owners will still have plenty of roof space to work with after the 200W of solar power has been installed.
Advanced Layered Design – Most importantly, WindyNation's solar panels are built using an advanced layered design that allows for the system to perform efficiency while being protected from harsh elements.
Together the tempered glass, EVA film, strong aluminum frame, and polymer coated backsheet secure the polycrystalline solar cells in place.
With protection against wind, rain, snow, and bumps in the road, it is not very likely that RV owners will have to replace these durable panels within their projected lifetime.
Great Customer Service – Compared to larger manufacturers, WindyNation is a fairly small company. With this in mind, representatives are able to take more time to answer customer questions and give attention to where it is needed most.
Although their warranties are not as extensive as other solar panel producers, WindyNation's fast delivery and personal touch make them extremely reputable in creating positive customer experiences with their products.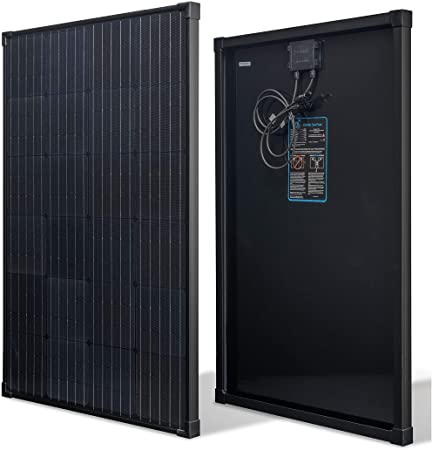 Why did we choose this one? If having an attractive, stylish solar energy system on your RV is what you are striving for, then you may want to take a look at nrgGos All Back High Efficiency 100 Watt Monocrystalline solar Panels.
These sleek products offer a cool, stealth design on top of advanced and efficient technologies. So we chose these panels because they not only look good, but also outperform many of the RV solar panels on today's market.
As a lightweight and affordable solar solution, nrgGos 100 Watt All Back Solar Panels are perfect for large and small RVs as well as stealth camping in vans and vehicles.
What are users saying about this product?
Sleek, Incognito Design – For some people, having all-black solar panels is an aesthetic decision. For others, having low-profile panels is important for stealth camping and avoiding burglary and theft.
With black monocrystalline solar cells tucked inside of a black metal frame, your solar panels will be hardly noticeable on dark colored vehicles or in the night sky.As a bonus, these slim panels are only 1.5 inches deep, making them some of the least noticeable solar panels on the market today.
High Efficiency Rating– As they utilize monocrystalline technology, nrgGO is able to ensure solar panel efficiency ratings between 15-20%.
With this in mind, these solar panels will take a shorter period of time to charge system batteries than their polycrystalline counterparts.
On top of that, polycrystalline efficiency ratings tend to degrade slower than polycrystalline solar panels. Therefore, overall lifetime electricity efficiency skyrockets with these premium products.
Easy to Install – Lastly, each of these solar panels weighs just about 17 pounds, which make them incredibly easy to transport and affix permanently on the roof of an RV.
Like many solar panels designed for campers, these units also come with pre attached wiring making the installation process as radically simple as possible, saving time, money, and energy on finding and connecting extra system components.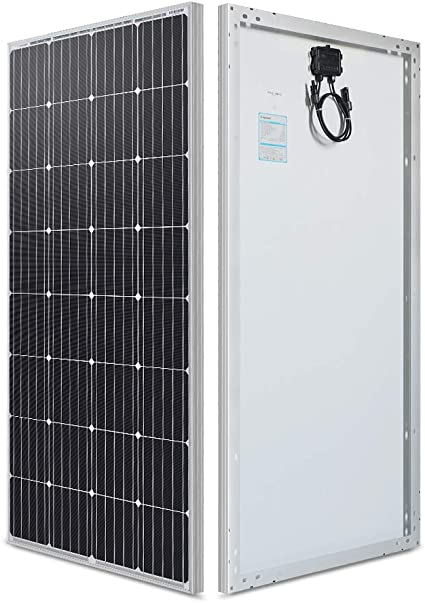 Why did we choose this one?
Next up, we've decided to circle back to one of our favorite brands with the 160W Compact Solar Panel from Renogy.
As we've said before (as well as many other solar industry experts), Renogy is one of the highest rated and most reputable manufacturers for the best RV solar panels.
With 60 extra watts of solar capacity beyond their most popular 100W model, these compact monocrystalline solar panels are highly efficient, durable and well priced.
Although there are many 150W, 160W, and 180W solar panels on the market, we have decided to choose this particular model for its compact design and superior dependability.
What are users saying about this product?
Compact Design – Despite having a capacity of 160 watts, Renogy still manages to stuff tons of solar energy generating power into a fairly compact space.
Specifically, each of these 160W panels measures 51.3 by 25.9 by 1.38 inches. If you do the math, that means that these solar panels can deliver up to 60% more solar energy while occupying the same space as many of today's popular 100W solar panels.
Beyond a single unit, connecting multiple 160W Renogy solar panels also allows RV owners to quickly compound a large solar energy system on a roof with limited space.
Durable & Reliable – Backed with today's top technology, Renogy's solar panels are above and beyond most other solar panels for RVs.
These 160W monocrystalline units can withstand large continuous amounts of rain, wind, and sun, and are also highly resistant to hot-spots that may minimize electricity production.
With protection in all conditions, RV owners are free to travel wherever they please, and may even forget about the solar panels on top of their vehicle.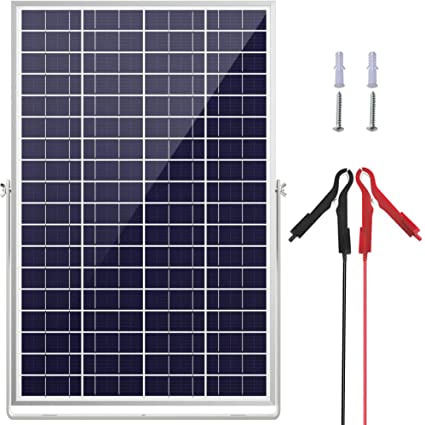 Why did we choose this one? Lastly, we have chosen the SOLPERK 30W/24V Solar Panel as one of the best solar panels for RVs in instances with low electricity demand.
If you are not living in your vehicle full-time, then you may be able to spend an entire weekend away using only the power from your vehicle's battery if you do not need a lot of electricity.
If this is the case, a small but powerful 30W solar panel will be able to slowly recharge your solar battery before, during, and after all of your adventures.
In direct sunlight, these photovoltaic solar panels from SOLPERK will still be able to run your small electricity system efficiently, without having to shell out a ton of extra money on higher capacity panels.
What are users saying about this product?
Lightweight & Small Footprint – At only 20.9 by 13.4 by 0.7 inches, SOLPERK's panels take up very little space on the roof of your RV. Because of this, they are perfect for small trailers or vans that are designed for smaller, cozier camping spaces.
On top of this, each of these 30W solar panels weighs a mere 5 pounds. If you have an old RV without a very strong roof, then something like this may be your only option for adding a renewable energy system.
Easy to Set Up and Use – With each purchase of a SOLERPERK 30W solar panel, the company includes pre wired connectors, alligator clips and installation screws. Receiving all of the installation components in one convenient package makes these solar panels incredibly easy to install.
Beyond this, very little maintenance is required in continuing to produce electricity, as the solar panels can be cleaned with the simple wipe of a wet towel.
What To Look For in the Best Solar Panels for RVs
The best RV solar kit is made with premium panels that are built to generate solar energy for over 20 years! With this in mind, here are the most important things to look for when deciding your best RV solar panels.
Top Brands
First and foremost, the name on the back of the panel actually means quite a lot when it comes to quality assurance in the search for the best RV solar panels.
Purchasing a panel from a reputable brand guarantees both a high quality item as well as a better chance for helpful customer service and long product warranty periods.
Today, the following are some of the top brands producing durable, high efficiency solar panels for campers, RVs, schoolbuses, etc.:
Renorgy
Jackery
Rich Solar
nrgGo
HQST
Grape Solar
Go Power!
MightyMax
ACOPower
Weight & Size
When thinking about an RV solar panel installation, the weight and size of the panels are largely determined by the roof of your vehicle.
For RVs with a small roof, owners may want to consider purchasing one or two high wattage solar panels, rather than many low capacity panels that would require more roof space.
In a similar vein, check with your vehicle's manufacturer information to determine whether or not the roof has been constructed to accommodate the weight of your solar panels and the materials used to mount them.
Power Efficiency & Output
As a product that has been developing for decades, solar panels come in a wide variety of output capacities and power efficiencies.
Both of these ratings are important to understand when considering how many solar panels to install on your RV (more on this in the FAQ section below).
Highly efficient solar panels can charge your RV solar kit's battery in less time, making it possible to create and use large amounts of sustained electricity. Currently, most solar panels have an efficiency of between 15% and 20%, with high quality products rated at over 20%.
Of course, the efficiency of the output together with the solar panel's rated capacity will determine how much energy is being generated.
For the most part, solar panels have a rated capacity between 50W and 300W. RV solar panels are also commonly rated at 12V, although they may output up to 20V in ideal conditions.
Portable vs Permanent Installation
For hobbyists and weekend warriors, portable solar panels seem like an ideal solution for outdoor electricity. There are many great portable solar panels that are easy to store, transport, setup, and use.
However, when it comes to RVs, many campers find that a permanent installation works best in the long run. Permanently installed panels do not require ongoing attention and transportation, which also makes them less prone to damage.
With high quality, rigid solar panels installed on the roof of an RV, adventurists can easily charge their batteries by simply driving down the road or parking in an exposed spot on a sunny day.
Durability Due To Movement & Vibration
While solar panels are usually seen on the roof of a house or out in a field, many people worry that the vibrations and movement from an RV may cause solar panels to break or malfunction.
Thankfully, many top brands have specifically taken the ongoing movement of vehicles into account when designing the best solar panels for RVs.
With this in mind, many residential and low quality solar panels are not built to accommodate frequent vibrations and may not be durable enough for your RV.
Additionally, even if you've purchased the best solar panels for your RV, careful and secure mounting is required to allow your system to withstand the movement and vibrations of the road.
Geographical Requirement
Even though your RV can go almost anywhere, it is important to consider where you will be spending most of your time in order to determine the best RV solar panels for your mobile home.
For example, if you're headed to Alaska in the summer, you will have plenty of sunlight. On the other hand, if you're there in the winter, your total sunlight hours may be more limited.
There are many resources available online that display seasonal sunlight hours in different geographic areas. If you are in a low sunlight area, then you may need to add more panels (or use more efficient ones) in order to sustain a large electricity demand.
Adjustable Mount Angle
Lastly, some of the best RV solar kits include an adjustable mounting system to connect your solar panels to the roof of your recreational vehicle.
Although this may seem like a luxury item, it can actually be very important to optimize the amount of direct sunlight your panels receive throughout the day. This is especially true in the morning and evenings when the sun is not very high in the sky.
Adjustable mount angles are not entirely necessary for those who spend a considerable amount of their time with their vehicle in direct sunlight (either moving or parked).
However, an adjustable system is great for getting the most out of your solar energy system in every season of your region.
Other Must-Have Items for RV Solar Energy Systems
Beyond the panels, there are a few crucial items of a successful RV solar kit. Here, we will provide a brief overview of the three other large electrical components in an RV solar system.
Directly after the electricity is generated in a solar panel, it is sent through a charge controller in order to regulate the amount of energy sent to the system's battery.
Charge controllers are necessary because solar energy is generated at varying levels of power throughout the day. Regulation helps efficiently send electricity to your RV and electrical devices.
Beyond this, charge controllers are necessary in protecting your battery from overcharging. Without a charge controller, batteries can be damaged to the point of needing a replacement.
Storage Batteries
Of course, storage batteries are sort of the heart of an off-grid RV solar system. All of the energy that is generated from your panels is sent to your battery before it reaches your fridge, TV, lights, and other electrical devices.
A high quality storage battery is crucial for rapidly charging and discharging large amounts of energy, often on a daily basis. For this reason, new technologies such as deep cycle and lithium ion batteries are among the best storage batteries for RVs.
Please see our full in-depth look at RV deep cycle batteries.
Inverter
Lastly, an inverter is required to convert DC solar power into usable AC power. For those who are unfamiliar, AC power is a continuous source of electricity used to power most home devices through outlets in the walls.
The rated output capacity of your inverter will determine the amount of electrical devices you can run at once. When comparing options, inverters are measured in continuous and peak wattage operating levels. If you need help choosing the right inverter for your solar system, check out our guide here.
Whereas many fridges and freezers run on DC power, a large capacity inverter may be needed to run power tools, hair dryers, microwaves or other high-demand AC powered appliances.
Common FAQ
Below, we will explore the most frequently asked questions about finding the best solar panels for RV use.
How many solar panels do I need for my RV?
In order to determine how many solar panels you need for your RV, you must first calculate the amount of power you will need to recharge your batteries.
RVs may have anywhere from 1 to 10 solar panels depending on the daily electrical demand, solar panel efficiency, and size of the system battery.
To help determine the exact number of solar panels that you will need for your specific RV, we recommend that you check out this guide
A 100 watt solar panel has the potential to power anything and everything in your RV. With a large enough battery capacity and inverter, you can power your TV, fridge, video games, phones, computers, and more with a 100-watt solar panel.
For more information, feel free to read our article on the best 100 watt solar panels
What can a 300 watt solar panel run?
Much like in the answer above, a 300 watt solar panel can run your entire kitchen, entertainment, and living area within an RV. The difference is that 300 watt solar panels will charge your battery 3 times faster than 100 watt solar panels.
Please see our 300 watt solar panel guide for more information.
In high-quality solar PV systems, monocrystalline solar panels are the most efficient. Monocrystalline solar panels are made up of one cohesive crystal of silicon.
Comparatively, polycrystalline solar panels are made up of many silicon sources blended together, but can still be considered highly efficient.
Do you need a battery storage system inside an RV?
Yes, if you would like to use electricity when the sun is not shining, then you will need a battery storage system inside an RV.
Think about it, batteries are everywhere: your phone, your computer, and also those small portable storage devices that give your electronics an extra charge.
For all off-grid electricity applications, a battery storage system is vital for sustainable use.
What does a typical installation include?
For RV solar panels, a typical installation includes a solar panel mounted to the roof, wiring, solar panel connectors, a charge controller, a battery and an inverter.
Some, mostly newer, recreational vehicles are built with battery and inverter systems that are prewired, making it incredibly easy to hook up solar panels.
Do I need a professional to install everything?
In many cases, no you will not need a professional to install everything on an RV solar panel installation. In fact, there are many tutorials and DIY guides to installing RVs on solar panels.
However, if you'd like to have your system installed without worrying whether or not your craftsmanship was sufficient, then there is always the option to hire a pro to get everything done well and quickly.
Wrap Up
Well there you have it folks, we hope that you enjoyed this complete guide for choosing the best solar panels for RVs.
Although solar energy components are rarely one-size-fits all materials, we feel strongly that any of the products featured in this article can deliver years of ongoing renewable energy for your RV and its appliances.
For more information on different aspects of RV solar installations, feel free to check out some of our other expert content. If you have any questions about solar panels for RVs or solar electricity in general, Sunvival is your ultimate source for the best products and information