Solar power on your home rooftop can save you money and reduce environmental impact!
There are tons of home owners looking for the best solar panels for home use, do you know what to get or how to get them installed?
In this guide, we'll outline the market's 7 best products, provided a detailed breakdown of why we chose them, and explain how they'll benefit you from day one.
Wanting to learn more? Skip to the FAQ sections where we cover important issues such as quality, cost-savings, efficiency, and more.
Let's jump right in…
7 Best Solar Panels for Home Use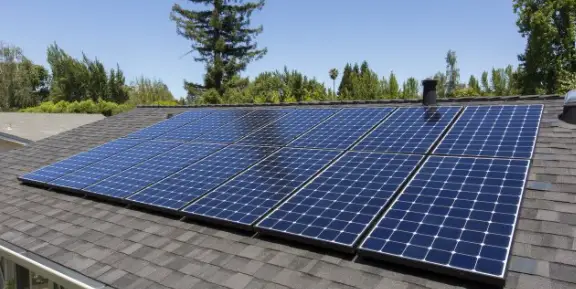 Why did we choose this one?
Let's begin with our pick for the most efficient solar panels. The SunPower X-Series Solar Panels for home use currently have one of the highest efficiency ratings on the market today. When compared to other residential solar panels, they operate with an efficiency rating of 22.8%.
Combine that efficiency with unmatched power and curb appeal, and the SunPower X-Series was an easy decision for our list.
What are users saying about this product?
Extremely Efficient – Why does efficiency matter? Well, with an efficiency rating as high as 22.8%, you'll be able to save space without compromising on power. Most other solar panels on the market have efficiency ratings somewhere between 15-20%.
Per panel, SunPower X-Series delivers 44% more power than conventional panels. This means you can install fewer panels on your roof to generate the power you need, saving you significant money.
Great Electricity Output– Solar panels are meant to generate electricity, so the best solar panels for home use would be the ones that provide the greatest electricity output.
With X-Series panels, you'll enjoy 45% more energy after year one, and up to 80% more energy after year 25 when compared to standard panels. All that extra energy leads to more cost savings and a cleaner environment.
Aesthetic appeal- Efficiency is important, but curb appeal also plays a role in our decision for the best solar panels for home use. The sleek SunPower® Signature™ Black design keeps the panels from standing out when incorporated into your home's aesthetics.
Anti-reflective properties reduce glare and lead to a more pleasing appearance. These solar panels are carefully designed to integrate seamlessly with any style of home.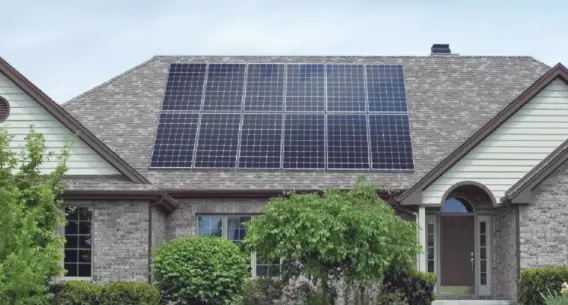 Why did we choose this one?
The LG Home Solar Panels are another efficient option on our list of 7 Best Solar Panels for Home Use. Their durability and above-average temperature coefficient make them excellent long-lasting options.
With several different models of residential panels to choose from, all featuring 25-year warranties, you can pick the solar panels that best meet your energy needs.
What are users saying about this product?
Performs Well in all Conditions – Solar Panels are subject to harsh conditions and temperature swings. The double-walled aluminum frames on the LG Solar Panels keep them protected from wind, weather, and other potentially hazardous conditions.
The low-temperature coefficient also ensures that these panels still produce maximum power even as temperatures rise. Both of these features keep your solar energy investment functioning properly and efficiently so you can live worry-free.
Noteworthy Warranty – There are 3 main parts to the industry-leading 25-year warranty. LG includes a Product Warranty, Performance Warranty, and Labor Warranty.
This protects your home solar panel from manufacturer defects, energy output, or efficiency issues, and even covers the cost of required replacement or repair.
This generous warranty shows just how much confidence LG has in their solar panels, and also means you'll easily be able to manage any potential issues that arise.
Efficient– Similar to the SunPower X-Series, the efficiency rating is above the average home solar panel rating.
At 21.7% efficiency, these panels are not rated quite as high as the X-Series but are still one of the top options sitting well above the 15-20% average. Again, this means fewer panels are needed, saving you roof space, which is oftentimes limited.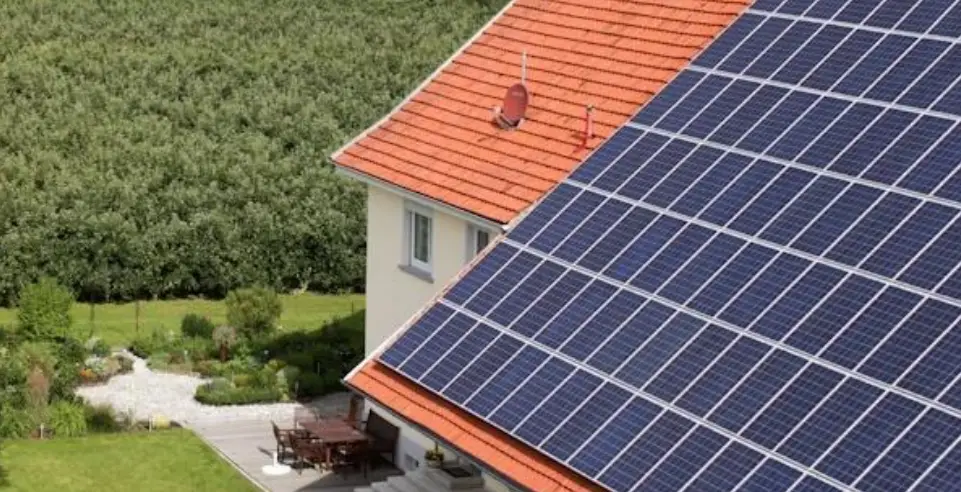 Why did we choose this one?
Thanks to advanced technology, the Meyer Burger HJT Solar Panels yield astonishing efficiency and performance results. By combining different types of solar systems and using durable materials, these can be some of the best solar panels for your home.
The SmartWire Connection Technology (SWCT) and Hetero-junction Technology (HJT) are what keeps these panels functioning at high standards over their entire lifetime.
What are users saying about this product?
Excellent Performance- The Heterojunction Technology (HJT) offers the best of both worlds, providing the advantages of crystalline technology and thin-film photovoltaics.
This creates higher efficiencies, up to 25%, and more stability when exposed to high temperatures. Featuring one of the lowest temperature coefficients, HJT solar panel energy production will not drop as temperatures rise.
By choosing the Meyer Burger HJT Solar Panels, you are eliminating the risk of lower power output during excessively hot weather, which can be an issue with standard solar panels.
HJT also allows for high energy yields, even when the sun is at its lowest points. High energy yields throughout the entire day mean more power for your home.
Minimal Degradation – The low degradation rate is thanks to the SmartWire Connection Technology. Using strong wire foils to connect the panels, rather than soldered bus bars, reduces the chances of microcracks and other types of current resistance.
What does that mean for you? It means you'll receive optimal performance and energy output even after many years of operation.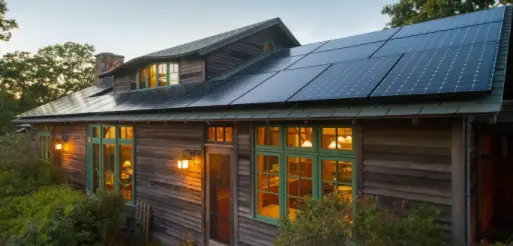 Why did we choose this one?
Quality matters when selecting the best solar panels for home use. Luckily, Mission Solar makes sure all of their products are diligently tested to ensure their high standards.
With 3 options available for their PERC Solar Panels including the MSE PERC 60 BLACK, MSE PERC 60 WHT, and MSE PERC 72, you'll have the freedom to choose the best model for your home.
These solar panels can easily hold up when exposed to severe weather conditions, all while delivering an impressive performance. It's hard to go wrong with any of these panels from Mission Solar.
What are users saying about this product?
Carefully Tested – Mission Solar Panels undergo some of the strictest testings of all panels. In turn, this creates finished products that are up to 3 times stronger than standard panels.
Quality checks are implemented throughout the manufacturing process. These checks include both automated and manual inspections.
Having been through rigorous testing, these solar panels for home use are guaranteed to provide a sturdy and enduring energy option. The advanced quality control methods should alleviate any concerns about durability and craftsmanship.
Several Options– What's better than just one option? How about three options, all built with the strongest materials around.
Whether you are looking for more power output, high efficiency, or impeccable design, Mission Solar will have a solar panel perfect for your home. More choices mean you have more control over your home solar energy system.
Super Durable– The durability of the Mission Solar PERC solar panels goes hand in hand with their testing procedures.
Protected from rain, snow, hail, wind, humidity, and moderate impacts, these home solar panels are tough, bringing you more power throughout the year.

Why did we choose this one?
Power, efficiency, and one of the best overall warranties are all reasons we chose the Panasonic HIT High-Efficiency Solar Panels for our list of Best Solar Panels for Home.
Panasonic offers an excellent 25-year warranty on its solar panels, which not only protects against defects and damage but promises outstanding performance even in year 25.
What are users saying about this product?
Best Warranty – A 25-year warranty is great, but what really stands out is the performance guarantee of 91% after 25 years.
Ensuring 91% energy output after 25 years means there will be no noticeable drop in energy production from these solar panels. In the rare instance that any problems were to arise, you would be covered.
Most other performance warranties only guarantee performance output of around 80%. Warranties are an essential way to protect your solar system from the unexpected, and this warranty from Panasonic goes beyond what most others provide.
Helpful Water Drainage– While most solar panels are waterproof, you still don't want water collecting in or around the panels.
These solar panels for home use utilize corner drainage features, which keeps them dry and helps them stay clear of dirt, dust, or water stains that could impede performance.
Low-Temperature Coefficient – The low-temperature coefficient of these panels is another reason they've landed on our guide to the 7 Best Solar Panels for Home Use.
Claiming 13% more energy production at high temperatures, the Panasonic HIT High-efficiency Solar Panels can help add to your cost savings by operating more efficiently no matter the temperature.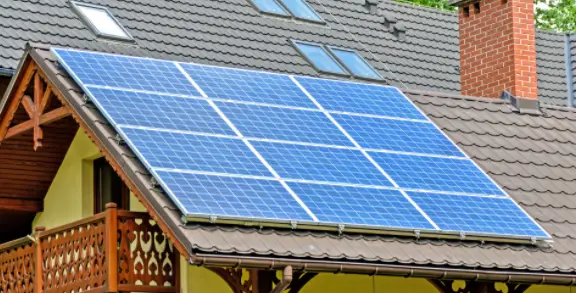 Why did we choose this one?
Renogy is another trusted brand in the solar energy world. Those looking for more of a DIY home solar project may find this 6 piece solar panel system appealing.
By bundling multiple panels in this Renogy deal, you can save on overall cost. Whether you're looking to install these panels on your home, or looking to provide energy for a shed, barn, etc., they allow for versatility and a wide array of practical applications.
What are users saying about this product?
Great Deal – When you compare the cost of other leading solar panels with the Renogy 6pcs 320 Watt Monocrystalline System, you can see the savings start to add up.
These reasonably priced solar panels for home use are great for both DIY installers and those just breaking into the solar energy world. By going with a lower-priced option, you'll likely be able to regain your investment quickly, adding to your savings.
Versatility– This 6 piece system made our list of Best Solar Panels for Home in part because of its versatility. The 320W panels would be enough to easily power a barn, shed, garage, or other structure on your property. You could also use the 6-panel system to help offset some utility costs, or purchase additional sets to fully power your home.
There are plenty of ways to utilize these powerful and efficient solar panels, which allows for more creativity, customization, and possibilities.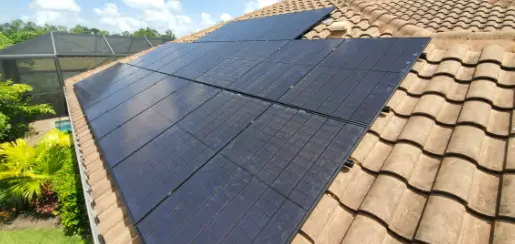 Why did we choose this one?
The honorable mention on our list of the Best Solar Panels for Home Use is the REC Alpha Series Solar Panels. These promising solar panels feature a stunning design and impressive statistics.
However, being new on the market means results are still somewhat limited. Still, we've outlined some of the major benefits, and believe these REC Alpha Series Solar Panels are a noteworthy option.
What are users saying about this product?
Great Design – The deep black solar cells are designed to hide the wires and provide an elegant appearance. Instead of standing out, these solar panels are built to become part of your home, aiding in the architectural design.
Uses HJT – Like with the Meyer Burger panels, using HJT means sustained performance even as temperatures rise.
Averaging 20% more power than standard panels, these REC Alpha solar panels provide maximum power output. For homeowners that means better savings while taking up less space.
Strong Frame- With one of the highest load capacity ratings, 7000pa, these solar panels will hold up in the harshest conditions. Even better, this strength won't fade over the years.
Heavy snow loads, strong winds, or heavy pressure from another object won't cause the support bars to bend or break, meaning your panels stay safe no matter what.
What To Look For in A Home Solar Panel
Best Brands
All of the brands included in our list of the Best Solar Panels for Home are high-quality and trustworthy options. These include:
SunPower
LG
Meyer Burger
Mission Solar
Panasonic
Renogy
REC
Beyond this, other popular brands include:
Q Cells
Jinko Solar
Silfab
Solaria
Roof Size & # of Panels Needed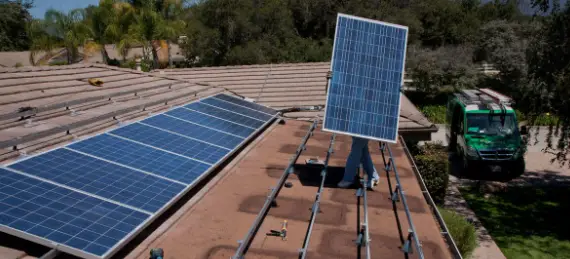 Figuring out the exact number of solar panels needed for your home depends on a few different factors. First of all, the amount of energy you're looking for will impact this decision.
If you are looking to fully offset your traditional electricity needs, 28-34 solar panels are the average amount for most homeowners. On average, one solar panel is equal to 15 square feet.
Depending on the size & design of your roof, you can calculate how many solar panels will fit. Those with smaller roof areas may want to consider using high-efficiency panels, which generate more power, meaning fewer panels are necessary.
Mounting Points

Most solar panels for home use are mounted on the roof, angled towards the sun. Solar panels should always be mounted in an area with little shade and few obstructions.
Depending on your location, available roof space, and access to sunlight, there are other potential mounting points.
Installing solar panels on ground mounts and racks can be an alternate option for those with limited roof space. Solar panels for home use can also be mounted on poles and on tracking mounts.
Weatherproofing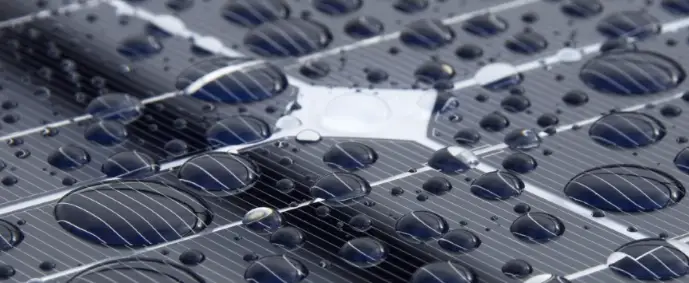 Considering your solar panels for the home will be subject to all kinds of weather, you'll want to choose a model that can withstand the elements.
Luckily most solar panels, including all those on our list of Best Solar Panels for Home Use, are weatherproof. Rain, snow, sleet, etc., won't damage or impair your panel.
Besides just water resistance, make sure your solar panels are also sturdy enough to withstand strong winds and extra weight caused by ice or snow.
Efficiency
Efficiency and efficiency ratings essentially convey how much sunlight is being transformed into usable energy for your home electricity needs.
This is an important aspect to consider. While some solar panels designed to be highly efficient cost more money, they can provide the same amount of power using fewer panels.
Homeowners with limited mounting space or sunlight access may want to consider high-efficiency models. As we mentioned early, most efficiency ratings fall in the range of 15-20%. All of the picks on our list of the 7 Best Solar Panels for Home sport efficiency ratings at the top end of the spectrum, with some going significantly beyond 20%.
Warranty
No matter what you're purchasing, a long and reliable warranty is always a plus. Solar panel warranties are no different. Choosing solar energy is a long term investment, and solid warranties help make the transition to renewable energy easier.
Several of the brands featured in this guide offer 25-year warranties on both the physical product and on performance. Warranties that guarantee long term high-energy output are favorable when choosing the best solar panels for your home.
Amount of Solar Power Needed

Everyone's home is different, and everyone's situation is different.
The amount of power you need varies depending on several different conditions such as: how many people live in your home, the types of electrical appliances and devices you have, and how often you use them. Solar panels vary in their total power output capacity, so choosing the correct model is important.
You can calculate the kilowatts used by each appliance and estimate your total power usage. There are also several online calculators that will help determine your total monthly power needs.
Solar Panel Type
There are two main types of solar panels, monocrystalline and polycrystalline. Monocrystalline solar panel cells are designed using single crystal silicon, while polycrystalline cells are composed of many pieces of silicon melted together.
Both perform the same essential duties, however, there are a few differences between the two.
When choosing which option might be the best solar panel type for home use, you should consider that monocrystalline panels are considered to be more efficient and feature a sleeker design.
On the other hand, polycrystalline solar panels come at a lower price point but sometimes lack the same efficient power output.
Cost & Installation Fee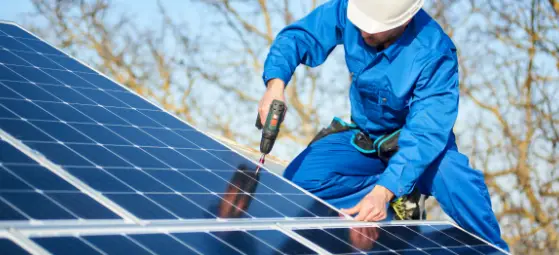 Cost is a key factor in most decisions. Though switching to solar energy might require an upfront investment, after several years your solar system will not only pay for itself but generate thousands in utility savings.
Still, it is a good idea to know how much power you'll need for your home so you can select the correct number and type of solar panels to fit within your budget.
If you don't plan to install the solar panels yourself, then the installation fee should also be a factor in deciding which solar panels are best.
Common FAQ
Grid-tied vs Off-Grid Solar Panels, what's the difference?

Grid-tied solar energy systems are the most common.
These types of systems are connected to the electrical grid. This means that if additional power is needed, you can still access traditional electricity from the power grid.
However, if your solar panels are producing an excess of electricity, that power is fed back into the power grid which may lead to utility credits or monetary returns.
Grid-tied systems are still susceptible to power outages.
Learn More: Design your solar grid tied system

Off-Grid solar energy systems work completely separate from any electrical grid. All the energy is produced by your solar panels and stored in batteries or backup ​generators. With this type of system, you'll be fully dependent on sunlight, though you won't have to worry about grid outages.
Also check out some DIY generator kit here
Are solar panels hail damage proof?
Yes, in most cases solar panels are hail proof. Durability varies depending on brand and panel type, but solar panels, in general, are designed to protect against hail up to 1 inch in diameter.
What do you do if snow covers up all solar panels on a roof?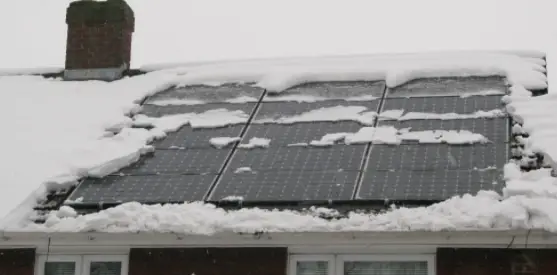 Snow-covered solar panels are a common occurrence, so there's no need to worry. Solar panels for home use are created specifically to withstand the weight of piled snow.
The overall drop in production caused by the snow will most likely not last long, and the sloped angles of the panels themselves help to keep the system from collecting too much.
Attempting to clean the snow off your solar panels can be a bad idea, potentially damaging them and voiding any warranty in the process.
How do you maintain solar panels?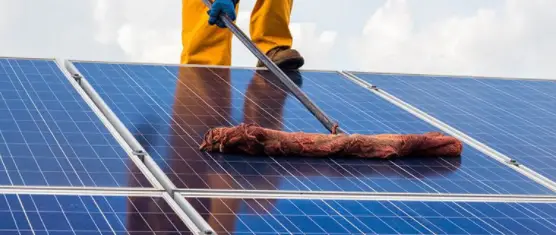 Solar panels do not require any type of regular maintenance. The main things you'll want to watch out for is any sort of large debris blocking the panel or any damage caused by animals.
If your solar panels become too dirty or dusty, a gentle wipe can help, but more often than not they will be naturally cleaned by rain or snow.
Check out more solar panel maintenance tips here
How much solar power do you need?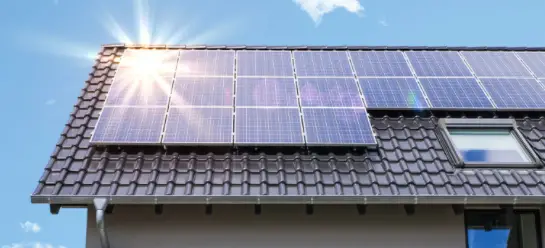 The amount of solar power needed for your home depends on your average electricity consumption measured in kWh (Kilowatt hours). For the average-sized home, this usually comes out to about 900 kWh a month.
Obviously, this number can go up or down depending on a number of factors, but this amount of energy usage translates to about 28-34 solar panels. Geographic location, access to sunlight, home size, panel efficiency, and wattage output will all play a part in the final outcome.
How much are you really saving?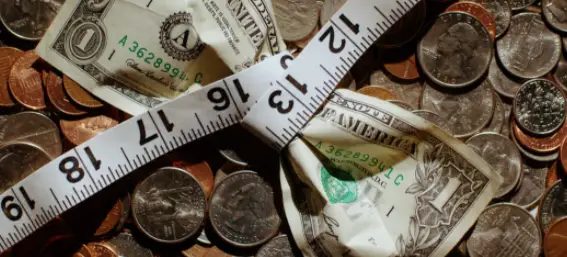 The bottom line is that solar energy saves you money. Naturally, the total amount saved is different for each individual, but you can expect an average yearly utility savings of approximately $1,500.
As those yearly savings add up, you'll end up recouping 100% of your initial investment, with every additional dollar of savings going straight to your pocket. Not to mention, you won't be subject to rising electricity prices.
What are typical Local tax benefits and incentives?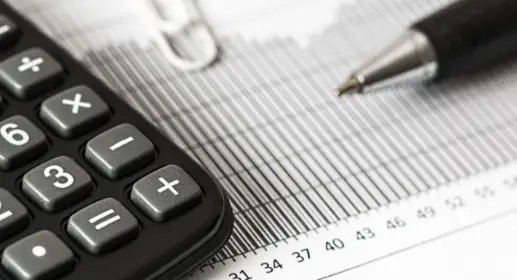 There are both federal and state tax incentives for home solar energy installation. The Solar Investment Tax Credit (ITC) allows homeowners with solar systems to deduct 26% of their total installation cost from their federal taxes in 2020.
Many states also provide additional tax credits for those using solar energy, helping to offset the total cost and save you even more money.
What tools or equipment Is needed to install solar panels by yourself?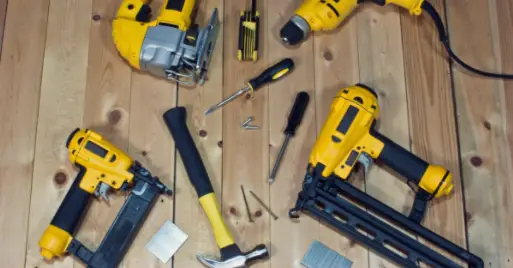 If you're looking to install home solar panels by yourself, here are a few helpful tools:
Household tools – wrenches, screwdrivers, tape measure, hammer, etc.
Portable power drill
Wire-cutters & pliers
Voltmeter
Non-contact voltage tester
Safety equipment
This is not an exhaustive list, and other project-specific tools may be required.
Where to find local solar panel installers?

Choosing smaller local solar panel installers can save you money when compared to larger national companies. There are many online resources that can locate local installers in your area.
Certain government websites may also list recommended solar panel installers. Talking to local contractors, electricians, and even friends or neighbors who have installed solar energy systems can help you find a trusted installer for a decent price.
Wrap Up
Now that we've covered our top choices for the 7 Best Solar Panels for Home Use, hopefully, you have a better overall understanding and idea of what type of system you might want for your house.
Considering all of the cost-saving benefits and incentives, as well as environmentally-friendly energy production, going solar is a smart and economical decision.
For more information, or to find answers for your other solar energy questions, be sure to check out our other SurvivalGuide articles.